1100 Litre Single Skin Steel Oil Tank
1100 Litre Single Skin Steel Oil Tank

Product Ref: 1100SS
Supplied complete with Clock Type Contents Gauge & Bottom Outlet Fitting Kit






Volume: 1100ltr
Weight: 100.000kg
Dimensions: D:1500mm W:610mm H:1220mm
BESPOKE TANK - Please contact us for the lead time on this product
Home Delivery
United Kingdom mainland delivery from FREE ex VAT
FREE STANDARD Delivery for selected STEEL TANKS - Via Articulated lorry, customer to off-load (Additional charges may be applicable to Scotland, Highlands and Islands)
Product Description
1100 Litre Steel Single Skin Oil Tank
Quality made budget tank.
1100 Litre (Approx 240 Gallon) single skin kerosene storage tank.
This steel tank is ideal for the storage of home heating oil.

These steel single skin home heating oil storage tanks are made from mild steel and offer an inexpensive storage option where a bunded tank is not required.

Supplied complete with:
2" vent including cap
2" fill point with cap and chain
1" BSP Bottom Outlet (complete with Bottom Outlet Fitting Kit/Isolation Valve & Filter)
1/2" drain
Clock Contents Gauge
2 mm thick steel plate (internally braced)
Undercoated in red oxide and top coated in a gloss green paint finish
Optional Extra:
Channel Runners - raising tank off the ground to keep tank base dry (not included in quoted height dimension)
Single lifting eye can be added to the top of tank for easy positioning
Bottom Outlet is positioned 20mm from the bottom of the tank. The 1/2" outlet for drain valve is at the back of the tank, which comes with a plug.
Customer Reviews
By
Mr Glenn Dale
on
10th November 2021
"Fantastic value great comms"

By
Mr Stephen Wilkins
on
20th November 2019
"Great item as requested and delivered"

By
Mr Douglas Nicoll
on
23rd October 2019
"Tank was a replacement tank and was exactly as described on the website and at a good price. Last one lasted 30 years, let's hope this one does too!"

By
JedClements
on
30th May 2019
"Excellent Service from order to delivery, the product is perfect and the whole process was excellent"

By
Mrs Zoe Capozzoli
on
14th May 2019
"Tank came with all connections and was exactly as described on the website."

By
FC
on
27th October 2018
"Top job! Plenty of communication, it was delivered when they said it would be and the delivery drivers were superb. Very impressed with the tank and would buy from them again."

By
Vincent Ward
on
3rd October 2018
"Great oil tank and we'll made."

By
Vincent Ward
on
3rd October 2018
"Great oil tank and we'll made."

By
Teresa Foster
on
4th September 2018
"Excellent service were advised of delivery date and time tank arrived promptly very pleased pleased with the tank was as advertised would highly recommend "

By
Robin Huggins
on
3rd June 2017
"Very pleased with tank which arrived promptly. Just the right size for my small courtyard, with a little disguising it will be quite unobtrusive. "

By
sheila woolacott
on
8th September 2016
"Excellent"

By
Graham Mollison
on
2nd August 2016
"well made product at very competitive price."

By
Mr Kevin Stokes
on
14th July 2016
"Good quality build and finish. Exactly what I wanted. If I were to nit-pick, the only thing I would have liked to see is a more secure (anti-tamper) fixing to the vent. Recommend"

By
Mr Steven Joyce
on
28th May 2016
"Excellent"

By
Elizabeth Widger
on
18th April 2016
"As Above"

Can I fit a single skin oil tank?
For some DOMESTIC oil tank installations (in England and Scotland, NOT Wales) fitting a single skin oil tank can be suitable solution.
In ALL cases, an 'oil storage risk assessment' should be carried out to determine the correct tank and installation (this can be carried out by an OFTEC approved engineer).
In brief a Bund or Bunded Tank is required in domestic situations if:
Your tank is in Wales.
You are storing over 2500 litres.
Your tank is near an open drain or loose-fitting manhole.
Your tank is within 10m of controlled water such as a river, stream etc.
Your tank is located where any spillage could travel over hard ground to reach controlled water.
Your tank is located within 50m of a borehole, spring or well.
Your tank vent is not visible from the fill point (such as an extended fill point)
Your oil use is for a building other than a single-family dwelling.
Any other unique hazards to your site.
ALL DOMESTIC oil tanks over 2500 litres need to be bunded.
All NON-DOMESTIC oil tanks over 200 litres need to be bunded.
Please refer to our "resources" page for more information.
Installation requirements
This Oil Tank must be installed and maintained in accordance to the current OFTEC guidelines, by an OFTEC Registered Technician or similarly competent person.
Fuel Tank Shop and the manufacturer will not be responsible for oil tank installations which do not comply with these requirements.
OFTEC Base Construction Guidelines (in brief):
Adequate for the weight of the tank when full
Non-combustible, imperforate and level
Constructed of concrete, paving stones or stonework
Large enough to extend 300mm beyond ALL sides of the tanks
Delivery Information
Tanks:
The delivery of a tank can be confusing as each manufacturer offers a slightly different service and lead time. Please refer to our Delivery Information page. Standard tank deliveries are "kerbside" which means the tank will be delivered to the kerb only and not positioned further. Should you have specific delivery requirements or restrictions, please contact us to discuss.
Accessories:
Most accessories will be delivered within 1-3 working days. If you require them quicker, we can on occasions offer a next day service (please contact us to discuss). If the item(s) are out of stock we will advise you of the expected lead time and you will of course have the opportunity to cancel with a full refund.
Returns Information
Customers may return items within 14 calendar days (as per our Terms & Conditions) - refer to 4.6 & 4.7. **
Please be aware that returning a tank can be complicated and expensive so please check that you are ordering the correct item (we suggest checking the dimensions very carefully).
Product Specification
Product Code: HH
Delivery Options: Tail Lift Delivery
Guarantee: 1 Year Guarantee
Made From: Steel
Suitable For Fuel: Diesel, Gas Oil, Heating Oil
Tank Shape: Slimline
Tank Type: Single Skin
You may also like...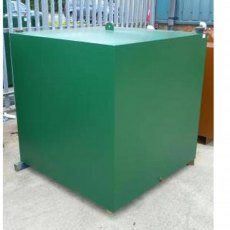 People who bought this also bought...
---
---
---
---
---
More from this collection...
---
---
---
---
---
---
---
---
---
---
---
---
---
---
---
---
---
---
---
---
---
---
---
---
---
---
---
---
---
---
---
---
---
---
---
---
---
---
---
---
---
---
---
---
---
---
---
---
---
---
---
---
---
---