Featured Products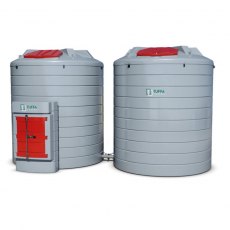 ---
---
---
---
---
---
---
---
---
---
---
---
---
---
---
---
---
---
---
---
---
---
---
---
Diesel Tanks & Dispensers FAQs
Can I store diesel in a transportable tank ?
A transportable diesel tank should be stored in a secondary containment area if it contains fuel as in most cases these are single skin.
These tanks are primarily designed for transporting fuel to a place of work to be completely discharged of fuel
Can I have a flow meter on my diesel tank if fitted with a hand pump or if gravity fed ?
No. Unfortunately the pressure required to enable the flow meter to read accurately is not at a tolerance that the flow meter can record
Why can't I have an automatic shut off nozzle on my diesel tank if fitted with a hand pump or if gravity fed ?
Unfortunately the automatic nozzle requires a pressure of the fuel being pumped to operate the shut off mechanism.
A hand pump or gravity fed tank would not have the necessary pressure to enable this
What is the new legislation for the change of rules for red diesel ?
The red diesel rebate has been a hot topic amongst many industries over the last year. However, after careful consideration earlier this year, the Chancellor and the government have decided to proceed with abolishing the use of red diesel from the 1st April 2022 in a number of sectors, to help reduce the impact that fossil fuels have on the planet. Specifically, their aim is to reduce commercial use of red diesel, especially in the plant and construction sectors, and to encourage the use of other fuels such as white diesel or alternative greener options. So how some industries will be affected and what do they need to know to prepare for the new legislation?
Restrictions on the use of red diesel come into force on 1st April 2022 for a range of industries including plant, construction, leisure, mining, quarrying, road maintenance and logistics. This means that there are less than 5 months to get ready to make sure that you comply with the new regulations from April. So here are a few things that you need to know:
From 1 April 2022, Registered Dealers in Controlled Oils will need to flush their tanks and supply lines when switching a fuel tank from red to white diesel, so there is no trace of the rebated fuel.
End users that are losing their red diesel entitlement will need to make sure that they run down their existing stocks and do not purchase red diesel from 1 April 2022.
The government has recognized that some users such as data centres are holding large amounts of red diesel but may only use it for a few hours a year in case of emergency. So it has been decided that HMRC will investigate and decide if the user can provide enough evidence that they have not built up their stocks or taken red diesel after the rules changed.
As the price of red diesel is a lot lower compared to the average price of white diesel, users will see an increase in how much they spend on fuel
As white diesel is so much more expensive and also widely used by the public, it needs to be considered that a rise in fuel thefts may occur once the switch has been made, meaning those storing fuel on-site need to consider protecting their fuel, as well as controlling and monitoring its use amongst staff
Transport/Fleet and Plant Hire
These industries will no longer be able to fuel their vehicles on-site using red diesel, they must make the switch over to an alternative fuel. This will involve running down or removing red diesel from vehicles, machinery and/or fuel storage tanks. There's a possibility that they will be able to sell back any excess stock of red diesel to fuel suppliers which will help towards funding the cost of replacing the fuel.
The cost of refuelling vehicles and machinery, or filling up storage tanks, will see an increase due to the difference in price between red diesel and alternative fuels such as white diesel. This will happen regardless of whether refuelling at a public petrol station or on-site using their own storage and dispensing equipment. One of the most important things that these industries need to consider is securing their site, any fuel storage tanks, and the vehicles or machinery such as diesel-powered chiller units on trucks, forklift trucks and mobile generators, to protect against theft, as well as unauthorized fuel dispensing
2. Engineers
As more industries will switch over from red diesel to alternative fuels, engineers will see an increase in jobs relating to fuel security and fuel management systems being required on-site or at business premises. This may require extra labour to implement these changes (depending on the size of the team), and extra training on products and installation (depending on the type of equipment being installed). Furthermore, it's likely that you'll also see an increase in call out jobs to assist with breakdowns, maintenance and further installs or changes to equipment.
3. Fuel Suppliers
The increase in demand for white diesel and other alternative fuels that are more expensive might result in more customers contacting fuel suppliers about fuel security options and to find more information on how they can manage the fuel usage on their site. We believe that as industries are starting to switch over fuel suppliers may see a surge in enquiries for fuel management systems, gauging, fuel monitoring and security solutions. So, our technical and sales team will be on hand to support fuel suppliers offering expert product selection advice and helping their customers to find the right products that match their applications and requirements
With thanks to our supplier Centre Tank Services Limited
How secure are the diesel dispensing tanks ?
All the diesel dispensing tanks that we sell are bunded which is a term that literally means a `tank within a tank'. This is designed to keep the fuel safe in the very rare event should the inner tank split. The cabinet doors can be locked either with a key or in some instances the tank is supplied with a metal post which the customer can secure with their own padlock
Advanced diesel dispensing tanks can sometimes be offered or come with fuel management systems which would only allow authorized people with key fobs to dispense fuel
Can we install a diesel dispensing tank ?
No. We are not able to install a diesel dispensing tank but there are companies out there that are able to install, service & decommission old tanks. Please contact us for details
Do you sell gravity feed kits for the delivery of diesel fuel?
No, as an environmentally responsible supplier we do not supply these kits, due to the high risk of accidental damage / discharge associated with their use. Additionally, at many installations today their continued use is illegal. If you require a tank to store diesel fuel for vehicular use, we would advise you consider a Harlequin Fuel Station, or Fuel Point For BioDiesel applications, Harlequin BioFuel Stations are recommended for BioDiesel blends of up to B100. Alternatively, for connection to remote pedestal type dispensing units, Harlequin's BioBund range is ideal. Please note that all BioDiesel tanks supplied by Tanks.ie are suitable only for use with BioDiesel produced in accordance with European Standards.
What are the power requirements for mains powered diesel dispensing tanks ?
A single phase (domestic 240v mains) power supply is required and always recommended being connected to a Residual Current Device (RCD) fitted at the connection point to the power supply. All mains electrical installations must only be undertaken by a qualified electrician and must be inspected and tested regularly in accordance with statutory requirements. Alternatively an electrician can wire up to a standard 3 pin plug and would not affect warranty.
What liquids are diesel dispensing tanks suitable for storing and dispensing?
Diesel (D) to British Standard BS2869. Additionally, the diesel dispensing tanks we sell are also suitable for the storage and dispensing of Bio-Diesel with a bio-element of up to 5% concentration.
Can I store and dispense Kerosene (C1/C2) from a diesel dispensing tank ?
No. The pumps and ancillary equipment fitted to these products are suitable only for use with Diesel. Dispensing a non-approved fuel from this equipment could result in serious injury or death.
Are the flow meters fitted (if fitted as standard or as an upgrade) to diesel dispensing tanks suitable for the resale of fuel?
No. Any equipment that is required to be sold would require a Weights & Measures certificate. All the diesel dispensing tanks we sell do not have certified equipment
Are batteries supplied as standard with 12v equipped pumps on the diesel dispensing tanks ?
No. The 12v pumps would come supplied with battery cables and crocodile clips to connect to a battery outside of the tank. We are unable to provide batteries.
Are diesel dispensing tanks suitable for dispensing 'Adblue'?
No. These tanks would not have the correct type of pump and AdBlue solution requires stainless steel connectors which are not used in diesel tanks
Does the tank require any assembly after delivery ?
No. The diesel dispensing tanks that we sell, excluding the CEMO UNI & MULTI tank range, are assembled at the factory. Once delivered, the customer simply positions the tank, connects to the electrical supply and fill with diesel and the tank is ready to use