---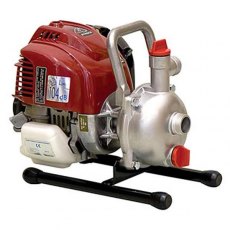 Honda Engine Driven Diesel Transfer Pump - 1 Inch
Honda Engine Driven Diesel Transfer Pump - 1'' This brand new Honda 1" Engine Driven Transfer Pump is designed for the high flow transfer of diesel and water. This small and compact multipurpose pump includes two parts that are from well-known industry manufacturers. Firstly it's powered by a genuine Honda GX25 Engine and secondly, it has a Tsurumi pump head – making it...
FAQs
How Does a Fuel Transfer Pump Work?
A fuel transfer pump works simple by pumping fuel such as diesel or kerosene from one tank or container to another. Some diesel transfer pumps are rotary vane pumps, others are gear pumps. Electric diesel transfer pumps can be purchased in 12 volt, 24 volt, 230 volt and in ac and dc versions. Some diesel transfer pumps can also be battery operated for remote use.