450 Litre Steel Bunded Oil Tank
450 Litre Steel Bunded Oil Tank
Product Ref: SEB100
Supplied complete with Clock Type Contents Gauge, Bund Gauge & Gate Valve







Volume: 467ltr
Weight: 147.000kg
Dimensions: D:770mm W:640mm H:1540mm
1 Week Lead Time
Home Delivery
United Kingdom mainland delivery from £165.00 ex VAT
Steel Tank Delivery - Via Pallet Network (5 Day Window Delivery) Postcode exclusions apply
Product Description
450 Litre Steel Bunded Oil Tank
450 litre (approx. 110 gallons) bunded kerosene storage tank.
This steel oil tank is ideal for the storage of home heating oil.
Tank Specification (photo for illustration purposes only):
Bunded Steel Tank (2mm)

4x Steel Feet/Supports (Included in quoted height dimension)

4x Top Lifting Points (lift empty only)

Clock Contents Gauge

Clock Bund Gauge

2" BSP Fill Point and Cap

2" BSP Bund To Atmosphere Vent and Cap

1" BSP Bottom Outlet (complete with Gate Valve), or

Top Outlet

Spare 2" BSP Socket
Standard Colour = Brunswick Green – BS381C/226.
Other colours available (at no extra cost) - SC01335 - Black, BS381C/538 - Red, BS4800-08-E-51 - Yellow, BS4800 06-C-39 – Saddle Brown and BS4800-18-E-53 – Blue.
Specific RAL/ BS colours can be requested but will have a surcharge.
Bunded oil tank suitable for the storage of heating oil in above ground storage installations at agricultural, commercial, domestic, industrial and institutional premises.
Customer Reviews
By
Andrew Morrison
on
13th June 2018
"Whilst the dimensions of the fuel tank are on the web-page, I still think the picture that supports this is misleading - could a photo of the actual tank not be included so people know if is taller than wider, rather than that as pictured. "

What is a bunded tank?
A bunded tank consists of a 'tank within a tank'.
The inner tank is the primary storage vessel, whilst the outer tank acts as a failsafe.
In the event of a spill, surplus fuel will safely and securely be stored within the outer tank and an environmental pollution incident will be averted.
Installation requirements
This Oil Tank must be installed and maintained in accordance to the current OFTEC guidelines, by an OFTEC Registered Technician or similarly competent person.
Fuel Tank Shop and the manufacturer will not be responsible for oil tank installations which do not comply with these requirements.
OFTEC Base Construction Guidelines (in brief):
Adequate for the weight of the tank when full
Non-combustible, imperforate and level
Constructed of concrete, paving stones or stonework
Large enough to extend 300mm beyond ALL sides of the tanks
Compliancy
Compliant with:
BS799 part 5
Oil Pollution Prevention Guidelines (England & Wales) 2001 PPG2 - Above Ground Oil Storage Tanks
Oil Pollution Prevention Guidelines (England & Wales) 2001 PPG26 – Drum and Intermediate Bulk Container Storage
Delivery Information
Tanks:
The delivery of a tank can be confusing as each manufacturer offers a slightly different service and lead time. Please refer to our Delivery Information page. Standard tank deliveries are "kerbside" which means the tank will be delivered to the kerb only and not positioned further. Should you have specific delivery requirements or restrictions, please contact us to discuss.
Accessories:
Most accessories will be delivered within 1-3 working days. If you require them quicker, we can on occasions offer a next day service (please contact us to discuss). If the item(s) are out of stock we will advise you of the expected lead time and you will of course have the opportunity to cancel with a full refund.
Returns Information
Customers may return items within 14 calendar days (as per our Terms & Conditions) - refer to 4.6 & 4.7. **
Please be aware that returning a tank can be complicated and expensive so please check that you are ordering the correct item (we suggest checking the dimensions very carefully).
Product Specification
Product Code: TN
Guarantee: 10 Year Guarantee
Made From: Steel
Suitable For Fuel: Diesel, Gas Oil, Heating Oil, HVO
Tank Shape: Slimline
Tank Type: Bunded
You may also like...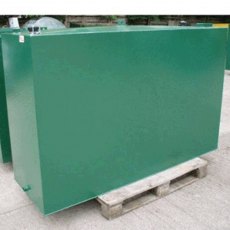 People who bought this also bought...
---
---
---
More from this collection...
---
---
---
---
---
---
---
---
---
---
---
---
---
---
---
---
---
---
---
---
---
---
---
---
---
---
---
---
---
---
---
---
---
---
---
---
---
---
---
---
---
---