---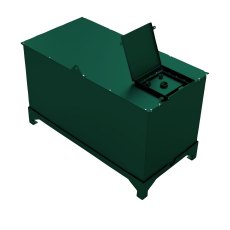 3000 Litre Dual Purpose Steel Tank - DLC3000
3000 Litre Steel Bunded Dual Purpose Oil Tank 3000 litres (approx. 660 gallons) bunded kerosene storage tank. This steel oil tank is ideal for the storage of home heating oil. The DLC all steel range has been designed specifically for domestic and light commercial (DCL) users, which can easily be upgraded to a fuel dispensing tank by simply adding a cabinet and pump. Tank Specification: Bunded...
3300 Litre Steel Bunded Oil Tank
Supplied complete with Clock Type Contents Gauge, Bund Gauge & Gate Valve

---
3500 Litre Bunded Oil Tank - Deso V3500BT
V3500BT 3500 Litre Bunded Heating Oil Tank 3500 litres (approx. 770 gallons) bunded kerosene storage tank. This quality bunded heating oil tank is suitable for both domestic and commercial fuel oil storage. Supplied complete with: Overfill Prevention Valve 4" Inspection Screw Lid 2" Vent 1" BSP Bottom Outlet (or Top Outlet Connection) Lockable Manhole Cover OFCERT...
---