Harlequin Heatstream HS 150IN - 150 Litre Indirect
Product Description
Harlequin Heatstream HS 150IN - 150 Litre Indirect Hot Water System
A ground-breaking advancement in hot water storage, the product is a hybrid incorporating many of the advantages of Vented, Unvented and Thermal Store cylinders.
The Indirect Heatstream comes complete with one top mounted 3kw Immersion Heater.
Produces mains pressurised hot water on demand. Safe, quick and easy installation. Low heat loss due to high levels of insulation. No pressure test certification required to install the system. System shape can fit neatly into many locations and through a standard door width. Non-corrosive polypropylene storage tank. Top positioned premium Boost Immersion for ultra fast heat up.
Benefits for the consumer
Mains pressurised Hot Water on demand
Amazing recovery rates due to its unique heat transfer method
Tough durable corrugated stainless steel coils ideal for most water quality areas
Benefits for the installer
Quick and simple to install with all water supply connections at the top
No expansion vessel or T&P relief valve needed
Simple overflow that can be terminated to waste pipe, soil stack or outside
Medium Density Polyethene exterior is highly resistant to damage from handling
Square shape and slim profile ensures that it fits easily into most applications
| | |
| --- | --- |
| HS 150 Indirect | |
| Width: | 520mm |
| Length: | 520mm |
| Height + Fittings: | 1,315mm |
| Empty Weight: | 39kg |
| Filled Weight: | 191kg |
| ErP Rating: | B |
| Standing Heat Loss: | 47W |
| Heat up time 60°C:(test start temperature 15°C.) | 20mins |
| Heat up time 65°C:(test start temperature 15°C.) | 25mins |
| Heat up time 70°C:(test start temperature 15°C.) | 32mins |
| | |
| --- | --- |
| Additional | |
| Outer Tank | Polyethylene |
| Inner Tank | Polypropylene |
| Internal Coils | Stainless Steel |
| Immersion Heater | 1x Top Mounted 3kw Immersion Heater |
| Hot Water Coil Inlet/Outlet Connections | 22MM Pipe Tail |
| Coil 1 Inlet/Outlet Connections | 22MM Compression |
| Overflow | 3/4″F |
| Hot Water Coil Operating Pressure (max.) | 3 bar |
| Coil 1 Operating Pressure (max.) | 3 bar |
| Insulation, Sides & Bottom | 60mm |
| Insulation, Top | 120mm |
| Warranty | 25 year tank body, 2 year internal components |
Draw Off Volumes
60°C Core Temperature
113L
65°C Core Temperature
128L
70°C Core Temperature
180L
15 litres per minute flowrate & usable hot water above 40°C .
Returns Information
Customers may return items within 14 calendar days (as per our Terms & Conditions) - refer to 4.6 & 4.7. **
Please be aware that returning a tank can be complicated and expensive so please check that you are ordering the correct item (we suggest checking the dimensions very carefully).
Delivery Information
Tanks:
The delivery of a tank can be confusing as each manufacturer offers a slightly different service and lead time. Please refer to our Delivery Information page. Standard tank deliveries are "kerbside".
Accessories:
Most accessories will be delivered within 1-3 working days. If you require them quicker, we can on occasions offer a next day service (please contact us to discuss). If the item(s) are out of stock we will advise you of the expected lead time and you will of course have the opportunity to cancel with a full refund.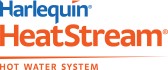 Product Code: HS150IN
Guarantee: 25 Year Guarantee

Write the first review
Heatstream Brochure
Heatstream Installation Manual
Lead Time: Standard Delivery 48 Hours
Item: HQ
Delivery Options
Harlequin Heatstream 48 Hour DELIVERY if ordered before 11:00 to Mainland UK
£40.00 (£48.00 inc VAT)